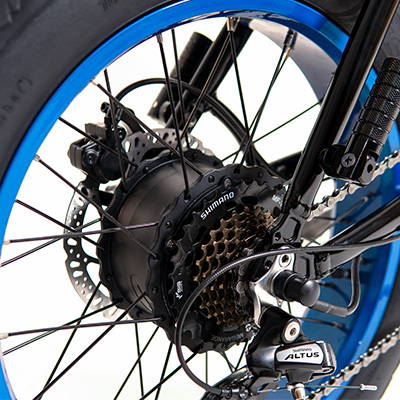 750 W MOTOR (1500 W PEAK POWER)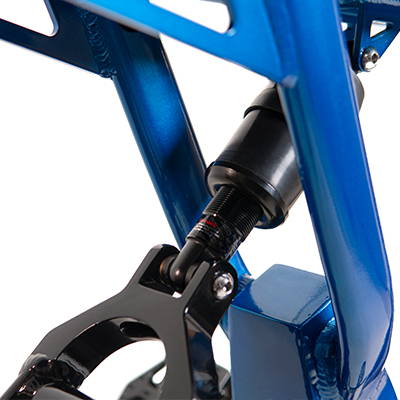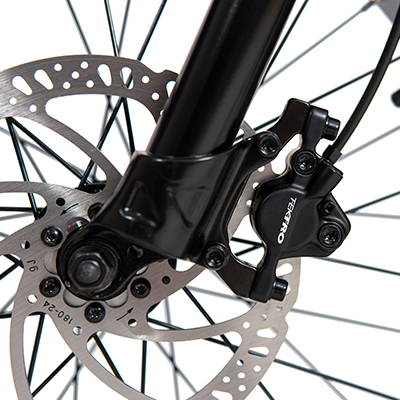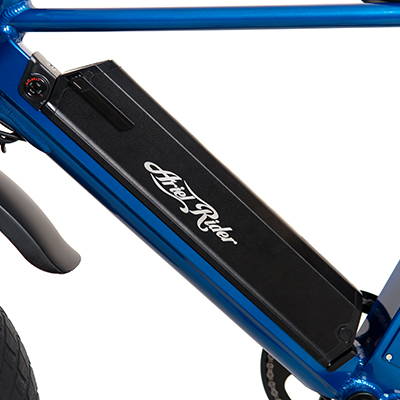 Long Range E-bike Battery
Most city commutes are less than 5 miles. Integrated battery has a masssive 768 Wh battery pack (48V 16ah) which is good to give 45 to 65 miles per charge. You'll cruise for days and days without charging it.
Our pledge is to provide the highest quality with the greatest design. We will never cut corners on the most important components of your electric bike. This battery has superior capacity and that extra range for you when you need it most. And it only weighs around 7 lbs!
It is securely mounted and can be locked with keys. What makes our batteries special is the safety measures we take so you can safely use your electric bike batteries for long time.
It has massive 90 amp protection board, high and low voltage, current regulators and temperature sensor. This also lets you use your ebike for long duration without any problems.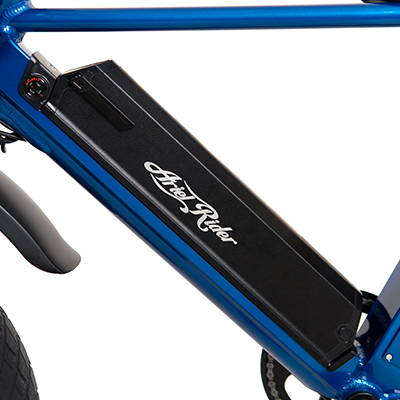 45-65+ miles per charge (estimated)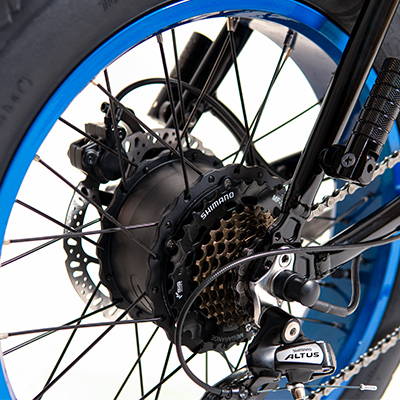 X-class has a special 750 watt hub motor. Outside looks same but inside everything is different than other hub motors. The motor nominal power is 750 watt but it is designed to be able to provide 1500 watt motor when needed.
In order to let motor climb these powers, we designed a high amp controller so when our motor needs more juice, controller will supply it without problem.
Besides being a very fast motor, this hub motor has very high torque. It will eat hills alive!
X-Class isn't only a powerful electric bike but also a very comfortable one. In order to do that we have both front and rear suspension. Rear suspension will absorb most of the shocks on the rear end. This will give you a more comfortable ride but also let you ride at high speed without braking.
You don't need to worry about riding on or off-road or terrain condition. X-Class will deliver you the most comfortable ride.
Also extra wide fat tires contribute to the comfort of your ride too.
**Please note that the rear arm swing is black in all future models until further notice.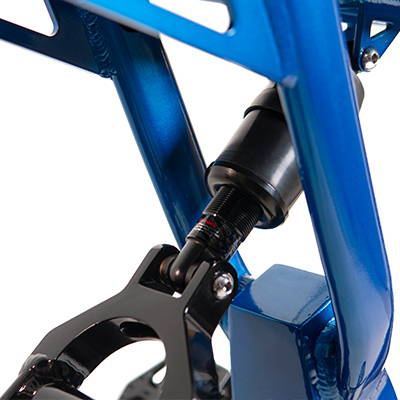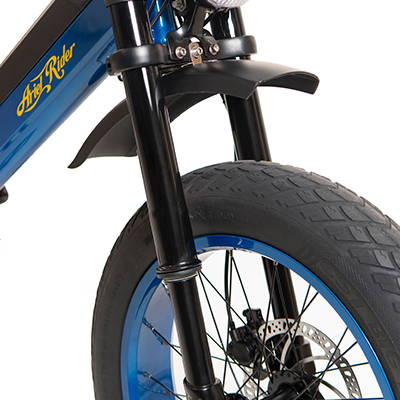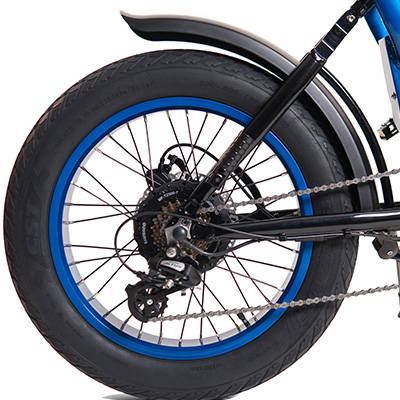 X-Class has standard front and rear fenders. They are perfect in preventing dirt, snow, water or mud. You can enjoy riding your X-Class at any weather or road conditions without worry.
Ariel Rider X-Class is equipped with a Retro Style Large Motorcycle Headlight. Other than looks nothing is Retro about this headlight. It has 2W power with 80 lux lumination which makes it one of the strongest headlight in market now.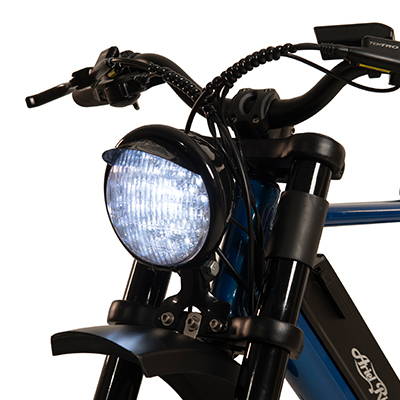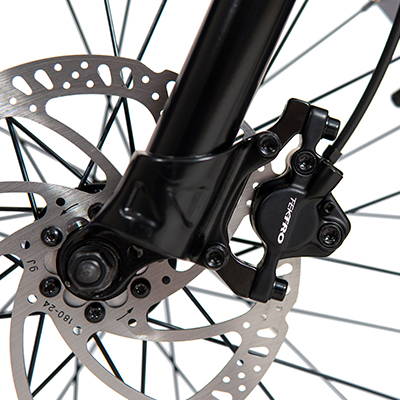 X-Class is a powerful ebike and we choose the best brakes to handle this power. X-Class has powerful front and rear hydraulic brakes with brake inhibitors.
Tektro is famous for producing hydraulic brakes special for electric bikes. It has a very powerful stopping power.
As hydraulic brakes have closed circuit system, you don't need to worry about cleaning dirt or mud from your brakes.
Safety is a major concern for us. That's why all X-Class ebikes are equipped with LED rear lights.
These LED lights are powered by the main battery of the ebike.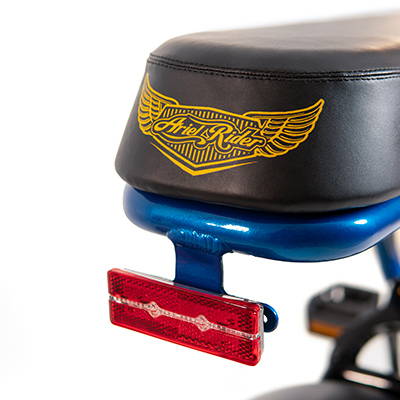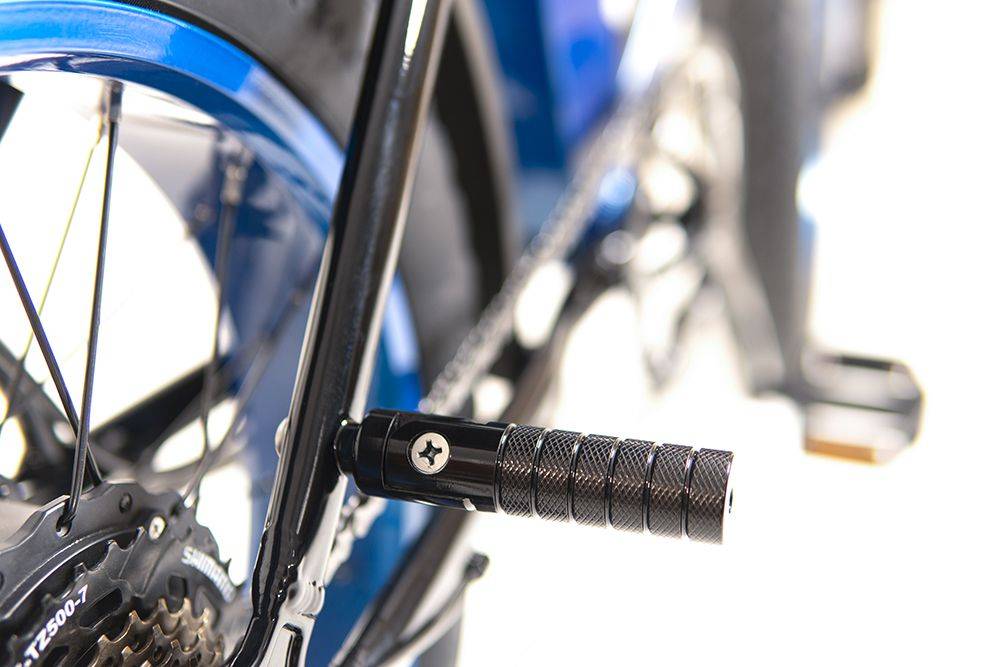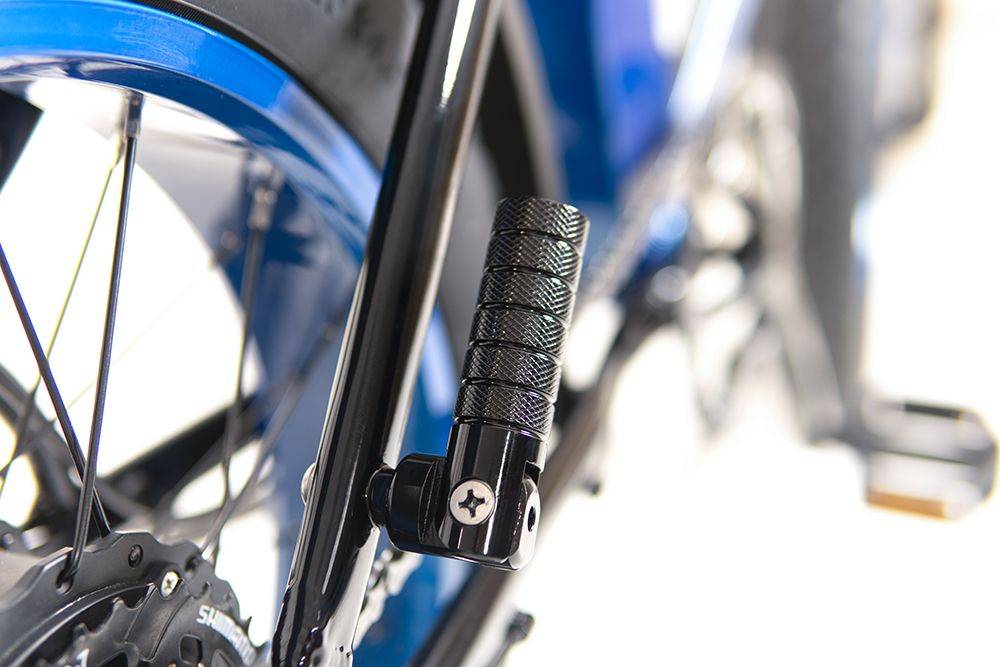 Standard rear passenger footpegs
X-Class has an advaned LCD Display which provides riders with all necessary information and more.
Allows for customization of many different specs, including setting the speed limit.
The display is securely mounted to the handlebar and let you control it without removing your hand from handlebar.
It also has an integrated USB port which you can use to charge your smartphone when needed.
Our displays have self diagnostic feature, so if something is wrong with your ebike you will see the problem on your display.
Large speed display (can change between mph and kmh)
Never run out of battery unexpectedly.
Pick from 0 to 5, whichever PAS level suits you best.
Especially useful on those long weekend adventure rides.
Always exhilarating to see how many miles you ditched your car.
Our smart screens allow riders to change the speed/odometer, settings, screen backlight, speed limit etc.
While we don't necessarily recommend ebike riders raise the speed limit on their electric bikes, we do support adventures of any kind with good safety measures.
This feature isn't only for adrenaline junkies! You can also lower the speed limit to make sure your loved ones don't ride too fast.
Ariel Riders has programmed all our eBikes so that every possible electronic malfunction (even simple unplugged cables) displays a specific diagnostic error code on the screen. So in the unlikely event of something going wrong, you'll know exactly which part of your electric bike to look at!
| | |
| --- | --- |
| | |
| | 750 Watt Hub Motor with 1500 Watt Peak Power |
| 48V 2Ah Smart Charger with Cell Balancing | Back-lit LCD, with Easy Diagnostics Feature and USB port |
| | |
| | |
| | |
| | |
| --- | --- |
| | |
| Tektro Hydraulic Disc Brakes with motor Inhibitors | |
| Tektro Hydraulic Disc Brake Levers | |
| | |
| | |
| | |
| | |
| | |
| AL6061 Double Heat Treated | |
| Custom Saddle for Two Passenger | |
| | All Assembly Tools and Touch Up Paint Included |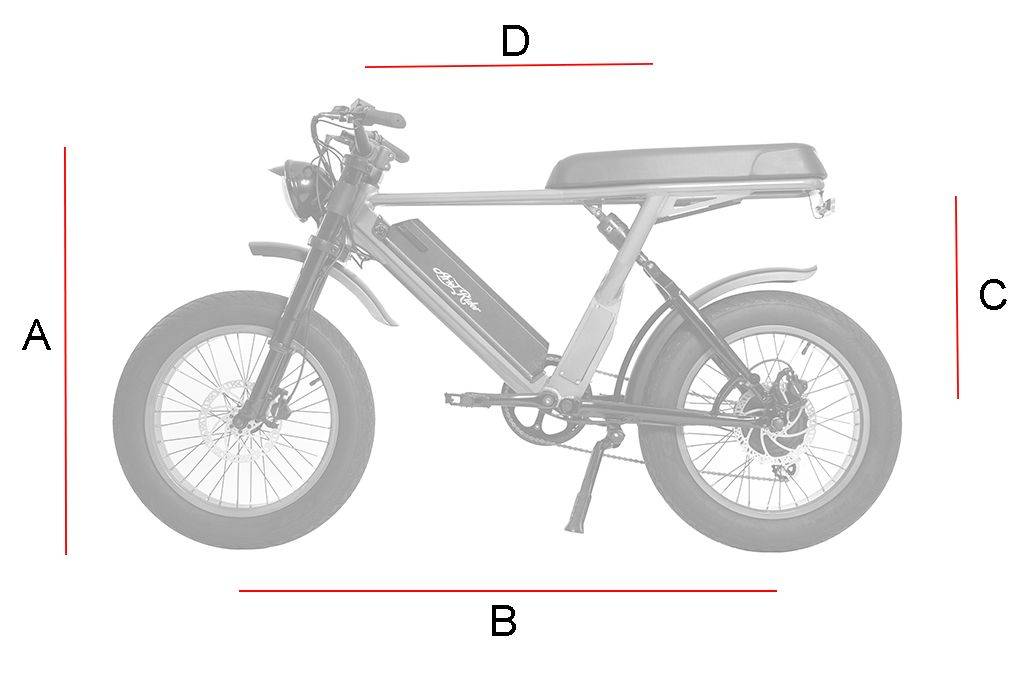 Fun
The bike is much taller than it looks. I'm 5'4" and am able to use it. Would rather be able to stand over the seat. It's not like a road bike the peddles are assisted so you don't need the full stretch of the legs while peddling. The frame is robust while the wheels are made of very thin steel. A composite or alloy wheel would make sense and better match the frame.
Enjoying My X-Class Ariel Rider
My X-Class arrived with out damage to the box or the contents...unpacking and assembly were straight forward and quite simple ,really. I did check out the available articles on YouTube and there was some useful info there. After assembly My Granddaughter And I took The X out and around and it is a Blast,so far at least the power is impressive and the controller reacts promptly,I find PAS 2 and 3 for even small hills very good assistance. Old Blue (original ,huh) seems excellent value,bang for the buck is way up there. I'm 72 and not in top shape and this bike is good fun and a bit of exercise without being too much,the handling is fine for what it is ,a small bicycle and as a life long motorcyclist it reminds of those long ago days with a light weight motorbike bopping around the neighborhood...fun and practical for around town
Best thing ever
I have had this bike for almost three weeks now and have put 135 miles on it. I live in the Blue Ridge Mountains in Virginia and my home is surrounded by hills, steep hills, and lots of them. This bike tackles any hill with ease. I use the pedal assist 99% of the time. Really helps with battery life plus, I love the sensation of the pedal assist. It really takes off! I would equate the amount of effort I am putting into pedaling with a casual stroll through the park. This is my first e-bike and I can say that it has blown my expectations out of the water. This thing is awesome! So much fun. Tons of torque, plenty of battery life, looks great! I highly recommend this bike or any other bike from Ariel Rider!
Great All Around Experience
First E-Bike - After the long wait I got the bike damaged but Ariel had a replacement to me in a day! Greatly appreciated since the bike is a blast to ride around town. Maybe not the greatest ergonomics for a long day of pedaling for taller folks like me (6'3"), but who cares it's built for cruising. Over 50 miles on the bike and I've found little to complain about (just the charger connection rubber plug). If you're looking to keep up with traffic, with no pedal assist the bike gets my 210lbs well over 20mph. Looks killer, sturdy, good torque - just an all around great bike.
An *Almost* Perfect Bike
So first of all, this is my first e-bike but I have regularly biked every day for the past 5 years since I moved to Austin. I sold my car after a year because I never used it and all of my business was located in central Austin. Most of the bike trails are also within biking distance too. There were a few times having a car would've been nice like grocery shopping but I've gotten by just fine. For about two years, I even worked as a favor bike delivery guy and became adept at biking in an urban environment. Everything has been fine except now I need to expand my range so I purchased this bike
Before I get too deep into reviewing the bike, I want to stress that this bike blew my mind and continues to do so. The bike has great suspension even with two people and provides a stable ride at high speeds (~25 mph). I even took the bike out to a pretty rough trail, Mckinney falls state park, and it handled like a beast with the pedal assist.
Now I know it has been marketed as being able to work well with two people and I was very curious about this. When I finally received the bike, I found that it absolutely works with two people, though both riders have to be pretty close together and neither one can really be too "big". I am 5'9'' and 150 lbs while my partner is 5'4'' 135lbs and they just barely fit when riding in the back. This is where one of the downsides in my mind comes from. There should be either an accessory or stock item for when two people ride that would help keep the back rider from sliding off the back. The two stirrups that come with the bike work really well but there should be a little more.
The only other issue I am finding is that the battery is not performing as well as I had wanted. Now don't get me wrong, I really am impressed with the performance of the motor but the bike is advertised as having at least a 45-65 mile range. I at most have only been getting 30-35 miles off of a single charge. I ride with a passenger at least 25% of the time and I live around a few steep hills so this has to be considered. All this in mind, I still thought I could at least have 45 miles to one charge but I suppose the option of having an extra battery is there.
If I were to change a few things, I would add something in the back so a passenger doesn't fall off from an unexpected bump and I would try to make the seat a little more adjustable but the banana seat is fairly comfortable as long as you use the throttle more often than actually pedaling. The seat has a tendency to rub on the inside of your legs but the throttle is so responsive that I usually only pedal when I am trying to go slow around a crowd.
Some upgrades I have made are adding a mirror to see cars on my left and changing out the bell to an electronic horn. I plan on adding something in the back as I described earlier to keep the passenger more secure and also adding a saddle of some sort inside the frame of the bike as storage for spare tubs or cargo.
Overall, I want to ride this everywhere! Just have to make sure my battery will get that far!