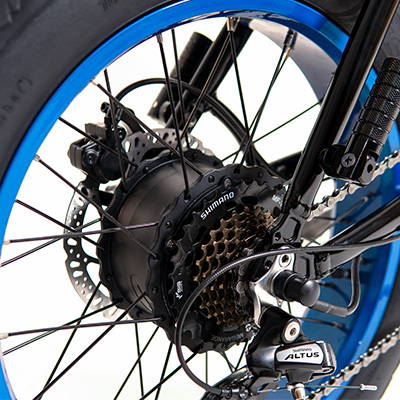 750 W MOTOR (1500 W PEAK POWER)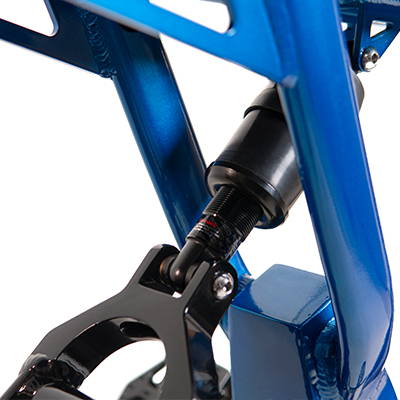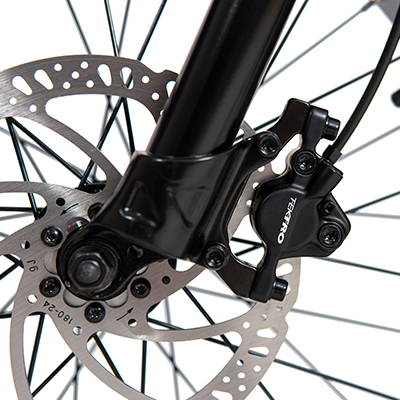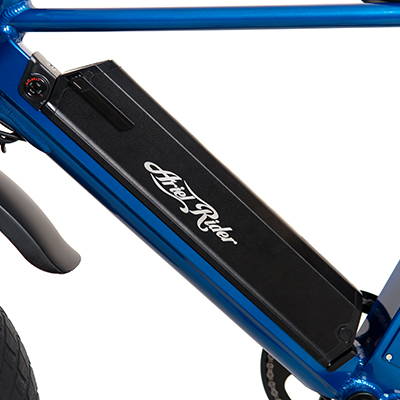 Long Range E-bike Battery
Most city commutes are less than 5 miles. Integrated battery has a masssive 768 Wh battery pack (48V 16ah) which is good to give 45 to 65 miles per charge. You'll cruise for days and days without charging it.
Our pledge is to provide the highest quality with the greatest design. We will never cut corners on the most important components of your electric bike. This battery has superior capacity and that extra range for you when you need it most. And it only weighs around 7 lbs!
It is securely mounted and can be locked with keys. What makes our batteries special is the safety measures we take so you can safely use your electric bike batteries for long time.
It has massive 90 amp protection board, high and low voltage, current regulators and temperature sensor. This also lets you use your ebike for long duration without any problems.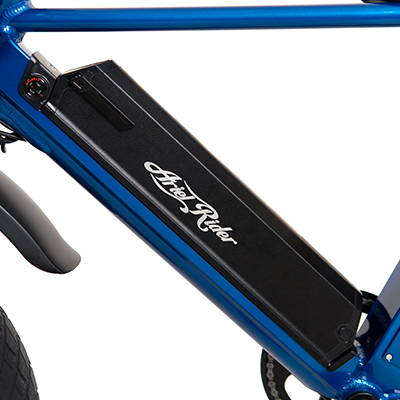 45-65+ miles per charge (estimated)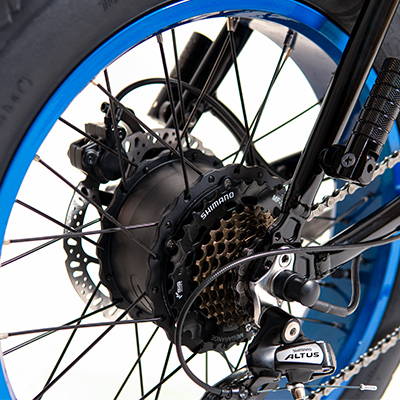 X-class has a special 750 watt hub motor. Outside looks same but inside everything is different than other hub motors. The motor nominal power is 750 watt but it is designed to be able to provide 1500 watt motor when needed.
In order to let motor climb these powers, we designed a high amp controller so when our motor needs more juice, controller will supply it without problem.
Besides being a very fast motor, this hub motor has very high torque. It will eat hills alive!
X-Class isn't only a powerful electric bike but also a very comfortable one. In order to do that we have both front and rear suspension. Rear suspension will absorb most of the shocks on the rear end. This will give you a more comfortable ride but also let you ride at high speed without braking.
You don't need to worry about riding on or off-road or terrain condition. X-Class will deliver you the most comfortable ride.
Also extra wide fat tires contribute to the comfort of your ride too.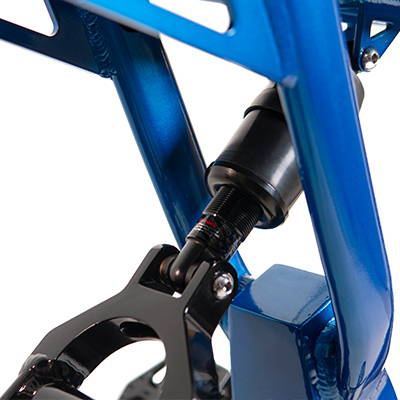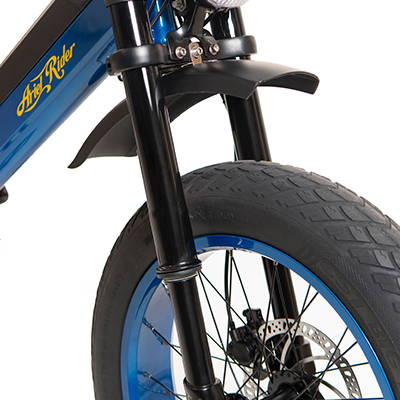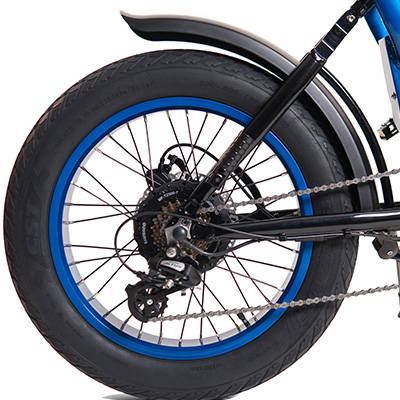 X-Class has standard front and rear fenders. They are perfect in preventing dirt, snow, water or mud. You can enjoy riding your X-Class at any weather or road conditions without worry.
Ariel Rider X-Class is equipped with a Retro Style Large Motorcycle Headlight. Other than looks nothing is Retro about this headlight. It has 2W power with 80 lux lumination which makes it one of the strongest headlight in market now.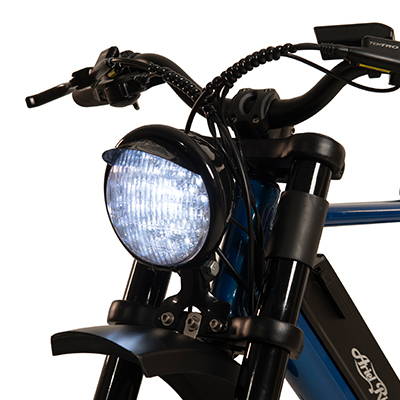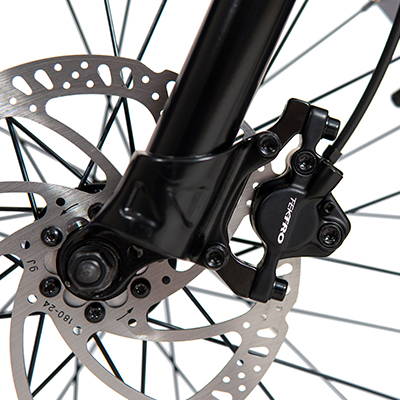 X-Class is a powerful ebike and we choose the best brakes to handle this power. X-Class has powerful front and rear hydraulic brakes with brake inhibitors.
Tektro is famous for producing hydraulic brakes special for electric bikes. It has a very powerful stopping power.
As hydraulic brakes have closed circuit system, you don't need to worry about cleaning dirt or mud from your brakes.
Safety is a major concern for us. That's why all X-Class ebikes are equipped with LED rear lights.
These LED lights are powered by the main battery of the ebike.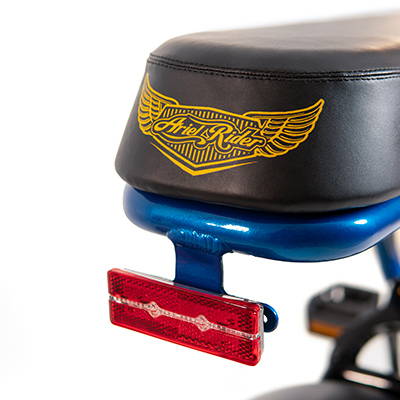 X-Class has an advaned LCD Display which provides riders with all necessary information and more.
Allows for customization of many different specs, including setting the speed limit.
The display is securely mounted to the handlebar and let you control it without removing your hand from handlebar.
It also has an integrated USB port which you can use to charge your smartphone when needed.
Our displays have self diagnostic feature, so if something is wrong with your ebike you will see the problem on your display.
Large speed display (can change between mph and kmh)
Never run out of battery unexpectedly.
Pick from 0 to 5, whichever PAS level suits you best.
Especially useful on those long weekend adventure rides.
Always exhilarating to see how many miles you ditched your car.
Our smart screens allow riders to change the speed/odometer, settings, screen backlight, speed limit etc.
While we don't necessarily recommend ebike riders raise the speed limit on their electric bikes, we do support adventures of any kind with good safety measures.
This feature isn't only for adrenaline junkies! You can also lower the speed limit to make sure your loved ones don't ride too fast.
Ariel Riders has programmed all our eBikes so that every possible electronic malfunction (even simple unplugged cables) displays a specific diagnostic error code on the screen. So in the unlikely event of something going wrong, you'll know exactly which part of your electric bike to look at!
| | |
| --- | --- |
| | |
| | 750 Watt Hub Motor with 1500 Watt Peak Power |
| 48V 2Ah Smart Charger with Cell Balancing | Back-lit LCD, with Easy Diagnostics Feature and USB port |
| | |
| | |
| | |
| | |
| --- | --- |
| | |
| Tektro Hydraulic Disc Brakes with motor Inhibitors | |
| Tektro Hydraulic Disc Brake Levers | |
| | |
| | |
| | |
| | |
| | |
| AL6061 Double Heat Treated | |
| Custom Saddle for Two Passenger | |
| | All Assembly Tools and Touch Up Paint Included |